A number of weather apps are available on the internet but their performance and service are not much better.
These apps are a little bit different from other apps.
For this, you need to find the best weather radar app for android.
These days it is not quite difficult to predict whether using weather radar apps.
It will be better for you if you have information about the weather so you can manage your dressing and routine according to weather conditions.
These weather radar apps are available on all android mobiles like Samsung, Huawei, and many more.
Because of this, we are going to discuss the best weather radar app for android.
Weather timeline
YoWindow
Dark sky
Forecast  
WeatherBug
Flowx
Accuweather  
The weather channel
NOAA weather radar
Weather Underground
RainAware
Geometric Weather
RadarScope
Best free weather radar apps for android to predict Weather
You have to charge the amount of 2$ for this app and it will be one of your best spending.
This app will help you to estimate the weather during the day.
This app will not only show you about the weather but also update you time by time showing notifications if the weather is going to change.
This app will show you maps due to which you will be able to see clouds and you can also know about the chances of rain.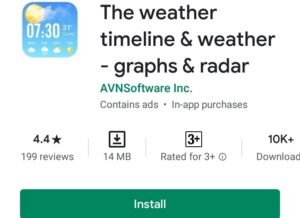 This app provides you information about the weather in so much interest and a clear way that you will not only get information about the weather of your surroundings but also enjoy its graphics.
You can scroll down on this app to get information about the weather at different hours of the day.
In this way, you will get time-to-time weather information. It is not much difficult to use this app.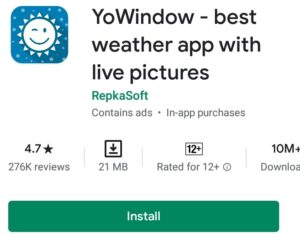 The Dark sky app provides the most precise and accurate information about the weather.
You will get accurate and exact information about the weather forecast in the next few minutes as compared to the unclear information provided by the low-quality apps.
Every morning this app updates you about the latest weather conditions.
But if you want to enjoy these amazing features you have to purchase the premium version of Dark sky.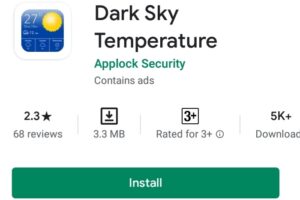 This app has some unique features which allow you to understand and predict the weather so easily.
You just need a single view to get a weather forecast of the recent day and after you swipe you will get the next day's weather information.
By using this app you can also get the weather information for the next week.
Whether you have the knowledge to use this app or not you can easily operate this app because it gives you the information in just one click.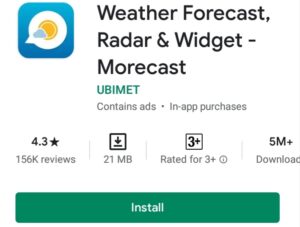 This app contains one of the best dashboards to display its users an amazing experience.
This app contains such great features that you can say it one of the best weather radar app for android phone.
You will get weather information for more than one location in this app.
It will update you about some serious changes in the weather which are going to happen.
The best thing about this app is that you can customize some of its features like you can select your favorite locations for the latest updates.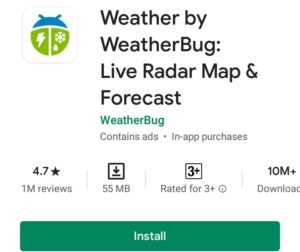 This app is quite different from the other apps as compared to display information and user experience.
It will display you the map of the whole world.
You can pick any location from this map and it will display you the weather information of this patch of the world.
It contains a widget for the desktop which will show you the graphical representation and summary of the weather for your ease of view and weather analysis.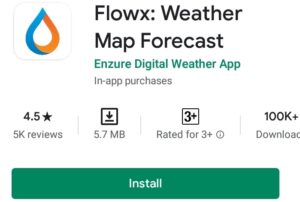 If you will use this app you will get the most accurate information like some of the apps we have discussed earlier.
This app will also update you by displaying notifications.
This app contains a weather index that will reflect the outside weather feeling instead of showing stats and numbers. But you can also get information in the form of stats and even in the form of videos.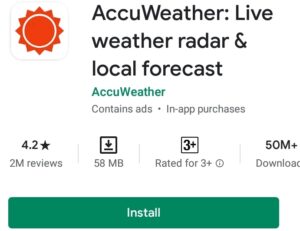 It is one of the apps which provide accurate information unmatched with other ones.
The thing that makes it different from the other apps is that it gives real-time weather forecast information and shows information for the next ten days.
It will provide you information about all the elements of weather like the speed of wind direction and precipitates. You can also watch the videos provided by the weather channel app from all around the world.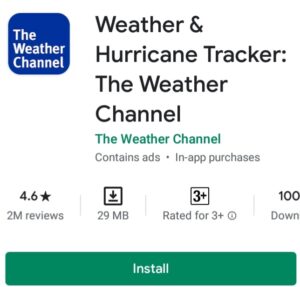 If you want to have the best weather radar app then it is one of them.
This app provides real-time and most authentic information about the weather.
Because it provides information from national oceanic and atmospheric administration.
The best thing is that you will get information about the different storms as well.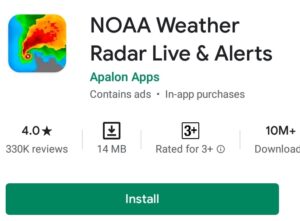 What is the best weather radar app?
The weather underground app offers the most authentic and hyperlocal weather forecast with weather alerts, satellite maps, and radar.
Up to ten days you will get hourly updates from the weather underground app.
The weather underground app shows you the results with the help of collective crowdsourced data of your location and 250,000+ weather station.
These stations show gauge numbers for pressure, wind speed, direction, rainfall, humidity, and temperature by using instruments.
To get accurate statistics and forecasts from your neighborhood they fill the missing information with data from the weather station owned by the user. 
You can also post your own weather updates and confirm the situation by using a reporting feature.
The people who are outdoor enthusiasts will like it, as it features sending sunrise and sunset notifications.
This information will help you to know whether you will have visibility for going on a bike or hiking.
This app is free of cost. But this app display ads and you can get rid of these apps by paying the amount of 1.99$.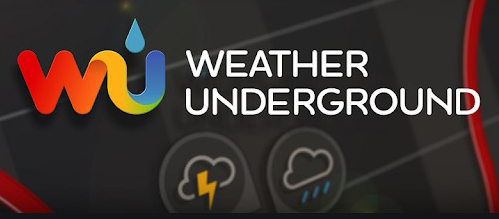 Most weather forecast apps will let you know about the percentage of chances of rain and do not tell you about the exact time of rain.
It could be better for you to know about the exact time of rain.
To track storms and planning of your trip you can use RainAware.
From the RainAware app, you will get the information about the rainfall before the three hours of rain and you will know at what spot you will face the rain so you can pack and dress up accordingly for your next destination.
You will also get information about the time period or duration of the rainfall.
The RainAware collects the data from surface stations, radars, and satellites to check the areas where you have to face rainfall.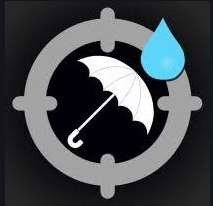 What is the best free weather radar app?
The geometric weather app would be a great choice if you prefer simplicity as compared to a large amount of data.
From this weather app, you will get the weekly, daily, and hourly weather forecast with a simple interface.
You will get information about the weather at a glance and use the background of your home screen.
It also has a dynamic, clean wallpaper with a geometric cloud or sun which keeps changes according to the weather forecast.
You will not find any type of extra widgets, icons, or indicators.
Instead, you will just get an illustration to detect whether you need an umbrella or not.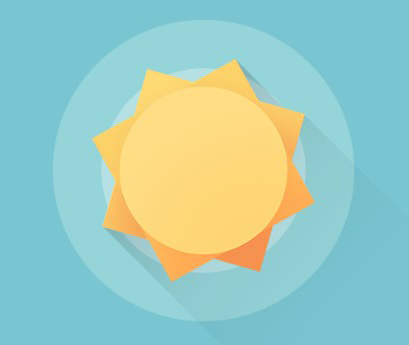 If you want an accurate weather forecast app then you must use RadarScope.
It contains radar data of high resolution to track weather warnings and to check forecasts.
This app is known as meteorologists.
This app shows you data collected from the US National Oceanic and atmospheric administrations.
You can also say that it is using the data same as professional weather forecasters.
Especially to chase and track storms across the area you can use this app to get an exact forecast.
The RadarScope will be rewarding for you if you want to invest in it.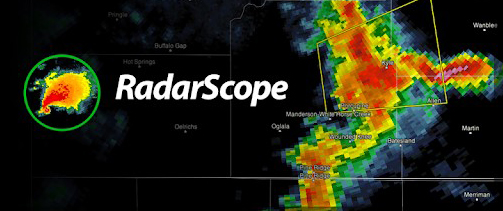 Bottom Lines
So these are all the best radar apps for android to predict the weather in your area.
It's quite interesting and helpful if you have weather information because you can make adjustments according to the different weather conditions.