How to buy more Google storage to store big data?
We all know that Google Drive provides one of the best services for data storage with Google Docs and some other well-known apps like Google Docs, Google Sheets, Google hangout to connect people online, we can also share screen through Google hangout.
It has a lot of users all around the world.
When you create a Google account it provides you a specific space of storage for free with email storage as well.
But some people have a large amount of data to save in Google drive and they also send and receive data from email.
When this storage gets short for such big data to save they need more storage. Now the only way to increase storage is to purchase it.
The complete process of purchasing Google storage is given as under.
How to Buy More Google Storage to Store Big Data
First of all login into your Google account and then buy storage for your Google drive.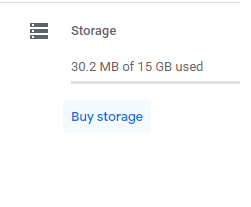 2.  A Google account that we get free of cost has 15GB storage of Google drive.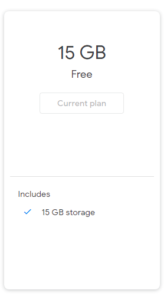 3.  It will show you the different plans like 100, 200GB, and 2 TB storage plans.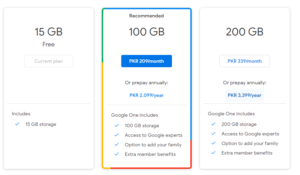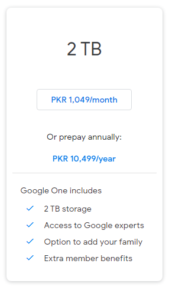 4.  You must remember that these plans are only for the period of one month.                                                                                                                                                                                                                                                                                            When you will buy Google drive storage you will also get some extra features.

5.  Click on the plan you want to buy and you have to agree to the terms and conditions of Google.

6.  After this Google will show a message with your payment method. If you want to pay through your bank app it is also possible. For this, you have to scan the code display by Google.

In this way, you can buy more Google drive storage.
You can check your Google drive storage and if you need more storage space you can buy it.
But it is also not compulsory to spend money on this.
You can free up space by deleting unnecessary data and files. You have to check files and analyze which files are occupying more space.
And delete the files which you don't need in the future.
If you don't have a Pixel phone Google will backup your every photo and video and count it in the storage.
You can free up this space by changing or converting them with a Google-free option.
We already know that email does not get a lot of storage but the attachments you receive with emails cover some space of storage.
So you can delete them and free up storage.
Bottom Lines
If you need Google drive storage you can delete some of your files or data which is not necessary but even then you need more space now what you have to do is to buy Google drive storage.
We have explained in the above article how to buy more Google storage.