Here we will have a comparison of Startpage vs Duckduckgo.
The Startpage and Duckduckgo are basically two search engine websites.
They have different features and characteristics.
At some points, each one is better than others.
But now we will discuss and see which one is more user friendly and keep your data private.
But before that, it will be better to increase the internet speed of your Wi-Fi.
Startpage vs Duckduckgo which one is better
We know that most people don't have much concern with the search engine homepage to search for anything.
They directly use the search address bar or any field available for search.
But it does not mean that it does not have any impact on the visitors.
That's why it has great importance.
Startpage is one of the best private search engines.
The homepage of the Startpage is very simple.
It does not have any sort of extra links or additional information in the sidebar.
There will be an arrow on the page click arrow to scroll down and search your query.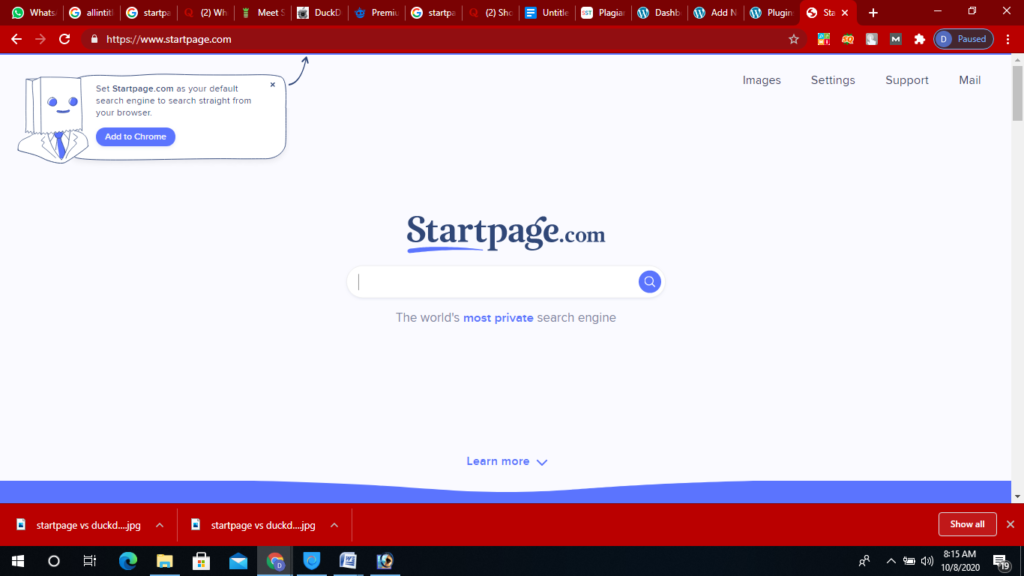 The home page of Duckduckgo is also very simple and clean.
It has a slide for extra information but good thing is that it will take you away from the homepage.
The experience of searching a query on the Duckduck go is more easy and comfortable as compared to the start page.
Because in the Duckduckgo you don't have to scroll down to make a search.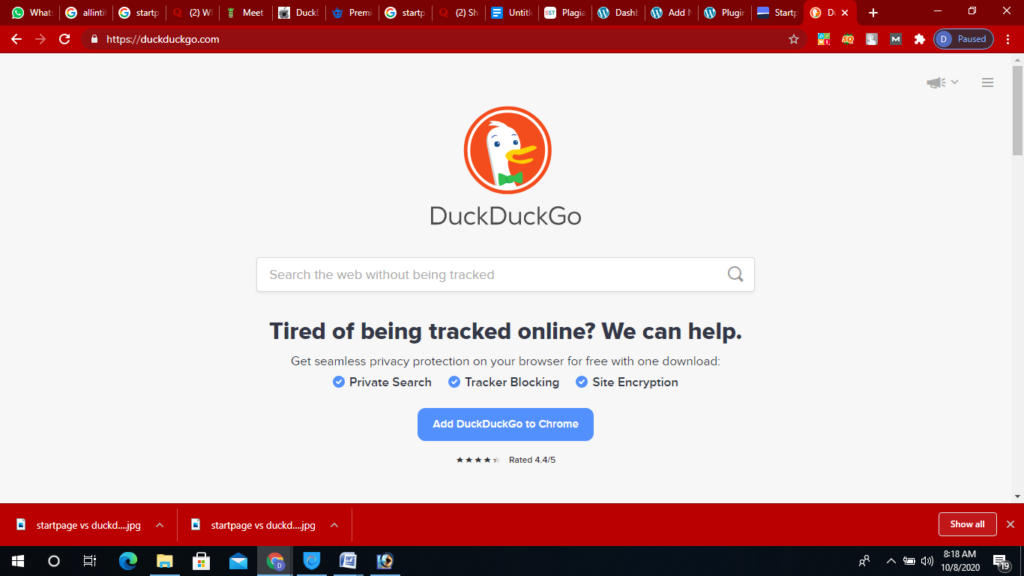 Search Engine Suggestions
Another important thing to compare is the search engine suggestion.
We have to see if we are typing something how fast it searches and displays results opposite to our query.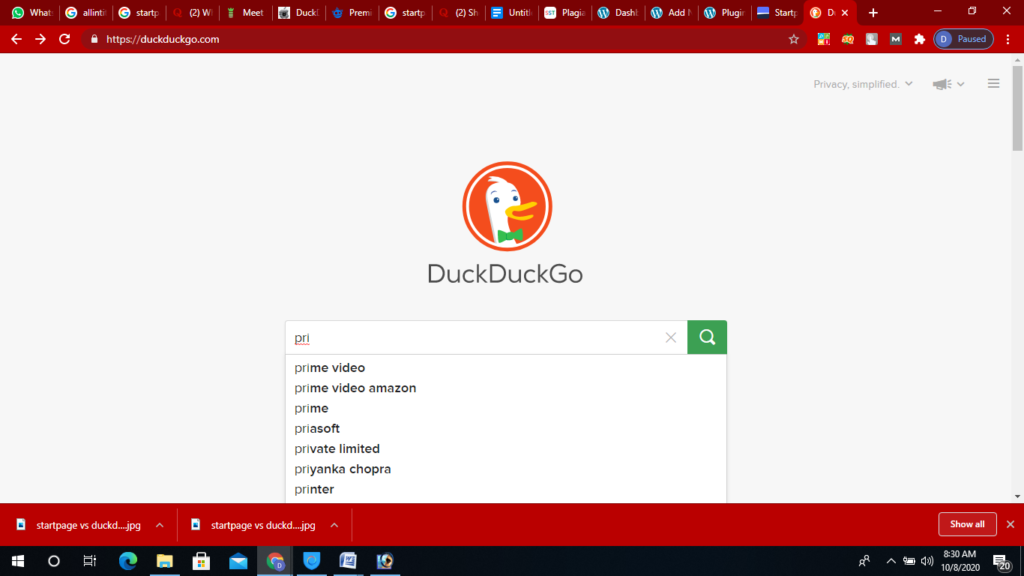 The start page and Duckduckgo both of these search engines have this feature of suggestion.
In Duckduckgo you will get this feature for default but on the start page, you have to enable it from the settings.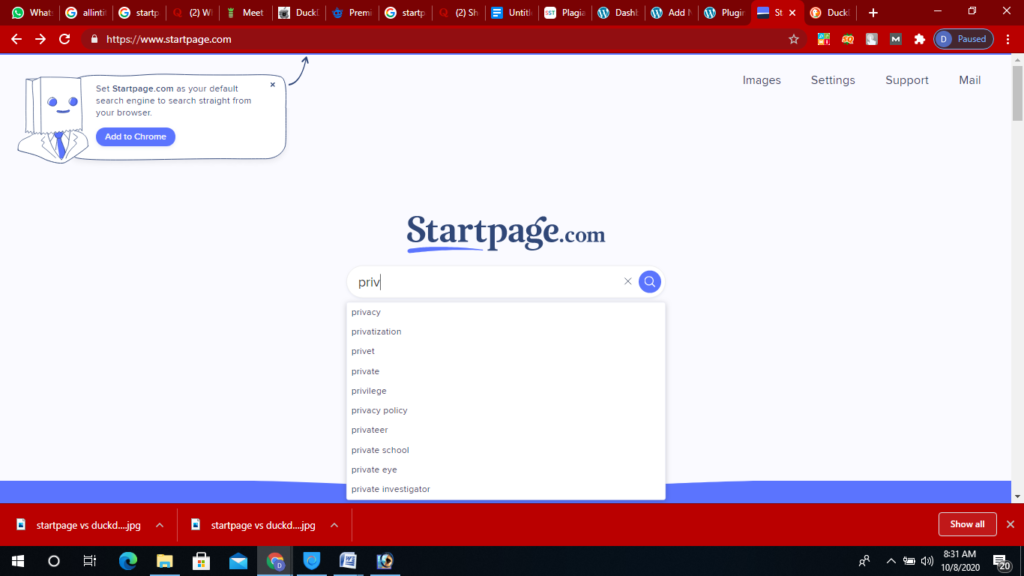 May you know this Duckduckgo uses AWS services of Amazon which makes its speed better and faster as compared to the Startpage.
Startpage is slower than Duckduckgo but not enough that you feel troublesome.
First of all, a user observes the search result page.
The page must be relevant, accurate, and readable.
It should be easy to load more results and switching between images and videos for the users.
Nobody will like to search for anything by scrolling down the page.
First, you will see a block of ads after which you will get the exact results you are looking for.
The layout of the Startpage is normal how it should be but the fonts are not good enough easy to read.
The URL, s place under the title which not seems so much good. But it gives much better features while using a proxy.
It displays the websites in a box or frame.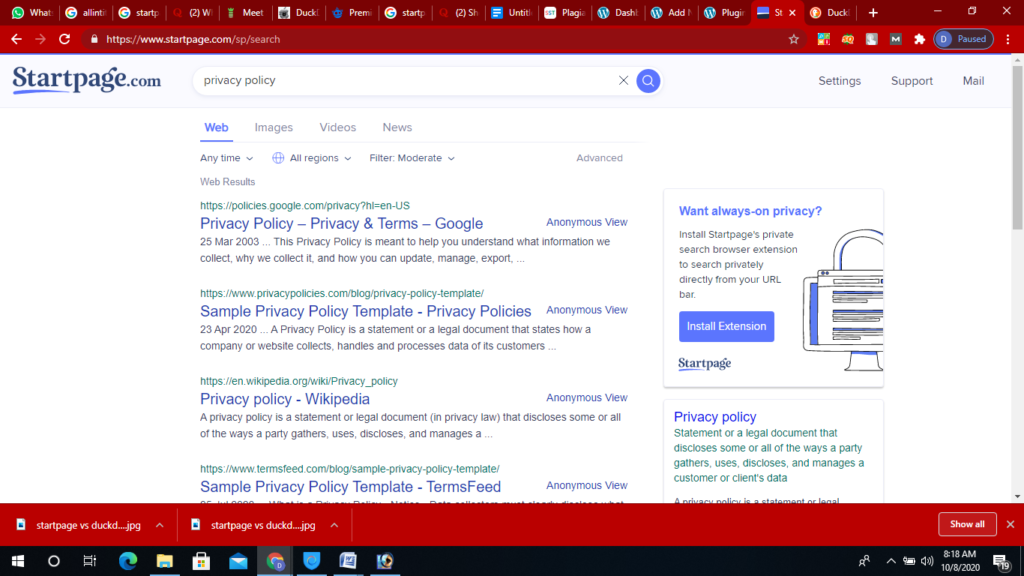 In Duckduckgo the websites which you are looking for are shown on the top of the result page and the ads are shown in the sidebar which is one of the best ways to show the results.
You don't have to scroll down to see your exact result.
Its layout is simple but fonts are also very good which makes it better than Startpage and you will not find anything difficult to read.
After having a comparison of Startpage vs Duckduckgo.
We conclude that the Startpage has some very amazing features for privacy while Duckduckgo is easy to read.
So at this point, it would be better for you to go with Startpage because of its privacy features.
The good thing about the start page is that it uses Google to display results as compare to the Duckduckgo.
If you want more privacy there is no replacement for the Startpage because it has end-to-end encryption and when you will search any query it will not show this in your browser history.
And Duckduckgo does not have such privacy and you will get past research data in your browser history.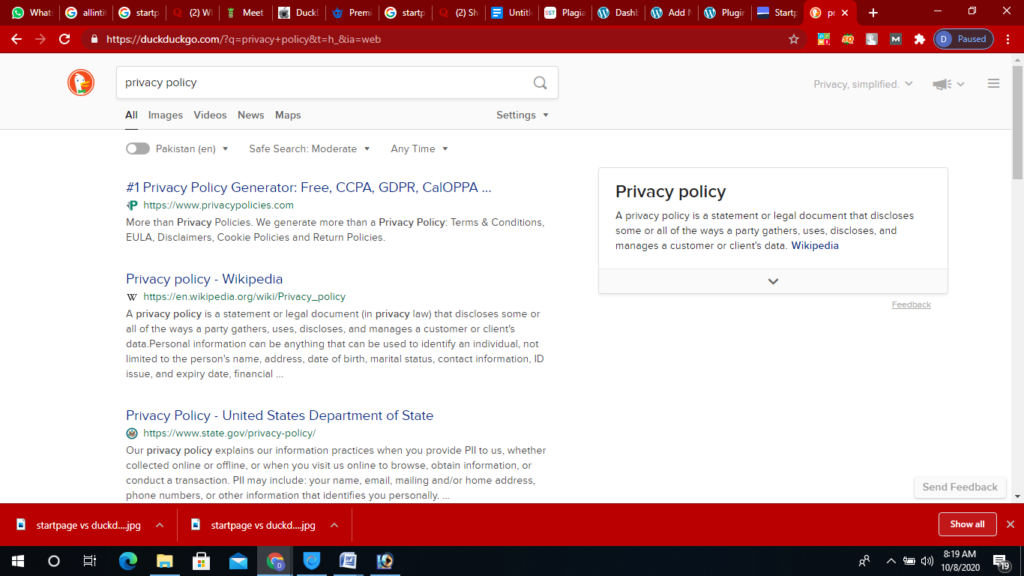 Bottom Lines
In the article, we have a discussion about Startpage vs Duckduckgo.
These are two search engines.
We have explained how they search query and show results in their layout and some other interesting features.