There are a number of Wi-Fi analyzer tools but we don't know which one is the best WIFI analyzer windows 10.
After analyzing Wi-Fi we can easily find different ways to increase internet speed.
When we use Wi-Fi commonly we see the variation in Wi-Fi signals and internet speed.
The signal strength of Wi-Fi depends on our surrounding conditions.
Our external conditions get changing so signals also get change.
For example one day you will be able to browse anything easily but another day you will hardly load a page of the website.
But the only way to deal with this problem is to analyzing and detecting the problems of the network.
For this, you can use a wifi analyzer.
In the end, a wifi analyzer will collect whole information from the point of access and will show you on the screen.
The wifi analyzer also shows data and information about your surrounding networks as well.
It works as an analytical program.
After analyzing the other network channels you will be able to make your network better.
Now we will have a look at different free and paid wifi analyzers tools and discuss which one is the best wifi analyzer windows 10.
Here is the list of 10 best free wifi analyzer
      Master Network Analyzer
      Network Analyzer
      Microsoft's Wi-Fi Monitor

      Open Signal Network

      Wi-Fi Analyzer
      Sparrow Wi-Fi Analyzer
      Wavemon Wi-Fi Analyzer
      Kismet
      Net-spot
      Vistumbler
Top 10 Free Wifi Analyzers Windows 10
    Master Network Analyzer
Master Network Analyzer is a free wifi analyzer tool. It works better when it is connected to the iOS device.
Master Network Analyzer shows the data about the current network and also gives a series of tests to make the connection better and analyze the devices connected to your wifi.
It will scan your network and show the stats about the IP addresses of the devices located on the network, the IP address of the DNS server, and the IP address which shows to the other people.
It will give you information about all the devices which are connected with your network.
It is the best analyzer for windows if you want to use it personally but don't use it for business.
Characteristics  of Master Network Analyzer
                  It provides a test for connection quality.

                  It analyzes the signal strength of your wifi

                  You can use it for free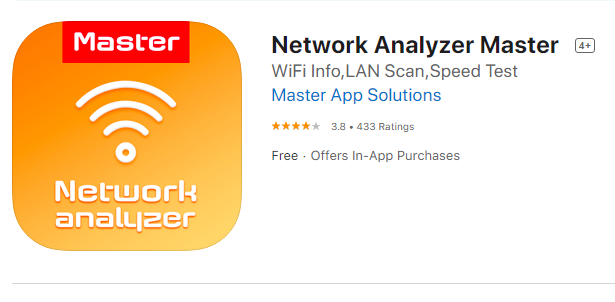 Network Analyzer
The wifi analyzer name as a network analyzer is also very good to use.
TechNet is the producer of the network analyzer and it has two versions.
The new users or beginners can install a free version of the network analyzer and it is called network analyzer Lite.
The network analyzer detects the IP address of every device on the wifi network and indicates it with the sign of flag.
It also provides details about all the networks located in your network range.
After installing the network analyzer Lite on your android or iOS you will be able to upgrade it to the full version.
Features of Network Analyzer
        signal strength display

        It shows the time of transmission of devices located near your network.

        It will also display cell network

        It is free to use but you can also upgrade to the pro version

    Microsoft's Wifi Monitor
A Microsoft's wifi analyzer is also available which is known as Microsoft's Wifi Monitor.
It has built a good reputation by providing quality services.
It will show you four tabs of signal strength, network, connection, and channels so you can easily analyze your network and other channels around your network.
When you will click the network tab it will show you all networks in your area.
And when you will open the channel tab it will show you all stats and causes why your wifi is not working well.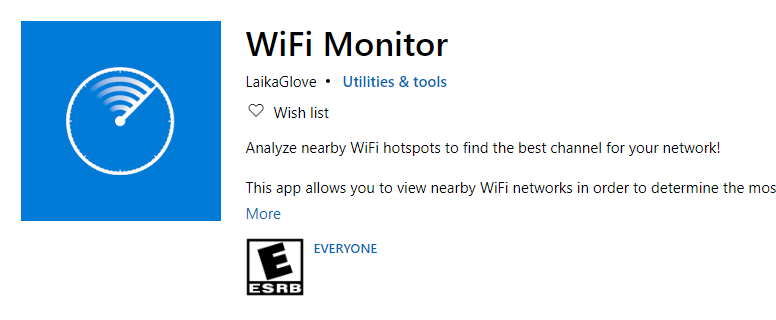 Open-Signal Network
The open signal is a wifi analyzer app and it is the most flexible analyzer.
It shows the time interval of response, the signal strength of your network, and the run speed of the network.
One of the excellent features is that it displays network details in the form of a map.
An Open-signal map will identify the phone towers and hotspots where you can get the best network quality.
Features of Open-signal Network
        It analyzes the network in the form of a map

        It also analyzes mobile signals

        You can use it for free

    Wifi Analyzer
Wifi analyzer is used for Android devices specifically.
Wifi analyzer is the most arising name.
Almost 10 million users of wifi analyzers are available on this platform.
It is used for the detection of the networks located near you. A wifi analyzer scans your network and displays all the stats of your network.
Features of Wifi  Analyzer
        The visual display of this analyzer is outstanding

        It's free to use

        It will show you the strength of signals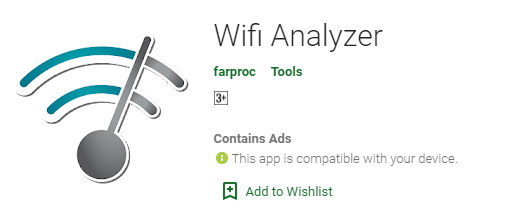 Sparrow Wifi Analyzer
Sparrow wifi analyzer is used for Linux and it analyzes Bluetooth as well with wifi.
This wifi analyzer will provide you an efficient graphical user interface.
By using a sparrow wifi analyzer you can detect wifi SSID and source of wifi network.
The process of installation is not complex you just need to enter a few commands in Linux to install it.
For further analyzes, you can export or import data in the form of files.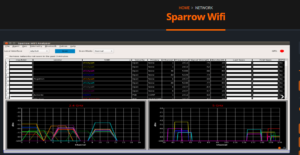 Wavemon Wifi Analyzer
Wavemon is also used for Linux and it is an open-source Wi-Fi analyzing tool.
If you want to use wavemon wifi analyzer you have to install wireless extensions.
It does not take time to start working.
You can use it easily and quickly.
This analyzer is updated on GitHub and you can easily add an update to your analyzer.
Features of Wavsmon
                    You can easily install this wifi analyzer

                    It is customizable and open source

                    It is available for free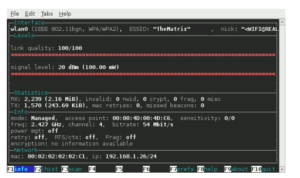 Kismet
Kismet is one of the best wifi analyzer windows 10. It is a wifi analyzer that works with IEEEE802.11 Wifi cards.
Kismet is mostly used by the Linux users but you can also use it for other devices.
The reason for its wide range of use is because it supports a number of protocols in which Bluetooth is also included.
One of the features of kismet is if you are working with a number of people it is easy to share information through live stream.
you can also customize it.
Features of Kismet
                    You can add more features using plug-ins

                    Support a number of protocols

                    It's Free

                    You can customize it

    Net-spot
Netspot wifi analyzer is the best app for your Mac.
It shows you the signal details in the form of heat form. It collects all data like the Mac addresses, signal strength, and width of your network channel.
The things that differentiate it from others are information network, ease of use, and in-depth reports.
It highlights the weak signals with blue or purple color. It is free to use.

Vistumbler
Vistumbler is a free tool.
By using this wifi analyzer you can track your nearby network channels and you can easily collect data from them.
Vistumbler will display a unique graph for each network.
By analyzing the graph you can easily observe which network is working excellent and what you can do to make your network better.

Here are Top 5 Paid wifi analyzer.
          Wi-Fi Scanner
A wifi scanner is the best tool to use if you want to keep some secrets on your network.
This is a paid tool and its price is 14 to 15 dollars.
It analyzes your network upload and download speed in an efficient way.
It is good for personal use as compared to office use. Its budget is low and you can easily afford it.
It tracks all the access points of the surrounding networks and also gives information on IP addresses.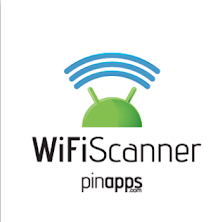 IStumbler        
Now we will discuss the tumbler.
This paid wifi scanner scans the wifi network and shows details in the form of a list.
This list updated from time to time according to the signal variations.
You can see the strength of signals and any kind of problems on the network.
It's a free version that is also available but it disturbs users by showing pop-ups again and again.
So to avoid this you have to purchase it.
The price of iStumbler is around 20 dollars.
This is quite a good analyzer if you want in-depth details about the network.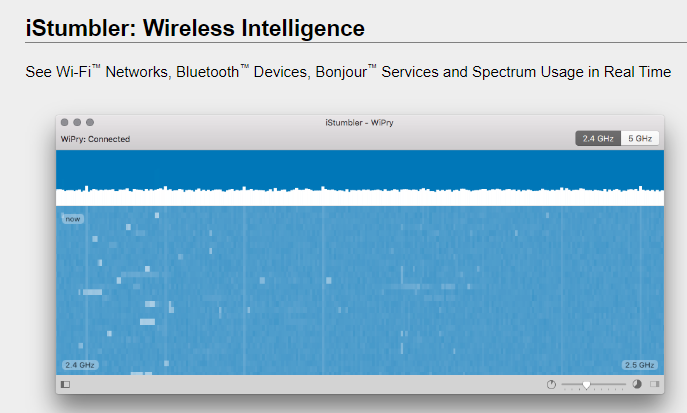 Inssider App
Inssider app track is a paid wifi analyzer tool.
It provides you a different type of information related to accessing points.
You can also visualize the signal strength, channels, and type of encryption.
The best thing about this tool is that you can use it quite easily.
Moreover, if you want further details about it simply click on the menu button located at the upper right side, and by selecting the category like network signals, channel, and SSID you can get all the information about it.
It has a price of almost 20 dollars and it is one of the most competitive wifi analyzing tools.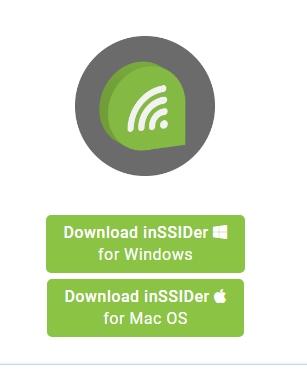 Acrylic Wifi
This wifi analyzer is specially developed for windows 10.
You can scan the wifi routers around your network and get details into the form of a table. In this tool, a monitor mode is also available which monitors hidden packets of network and you can also identify hidden networks using this mode.
Its price is almost 48 dollars. It is a one-time fee after which you will be able to explore in-depth details and get more reports.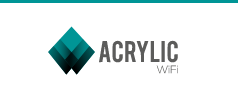 Commander Wifi
The wifi commander is very interesting to use.
It feels like having fun because the user interface is designed with 3D design.
If the touchpad of your PC is available then you can process through visual representation as well.
Commander wifi is only compatible with windows 10 not with 8 or 7. It provides information in real-time.
By using this tool you can easily select the best network.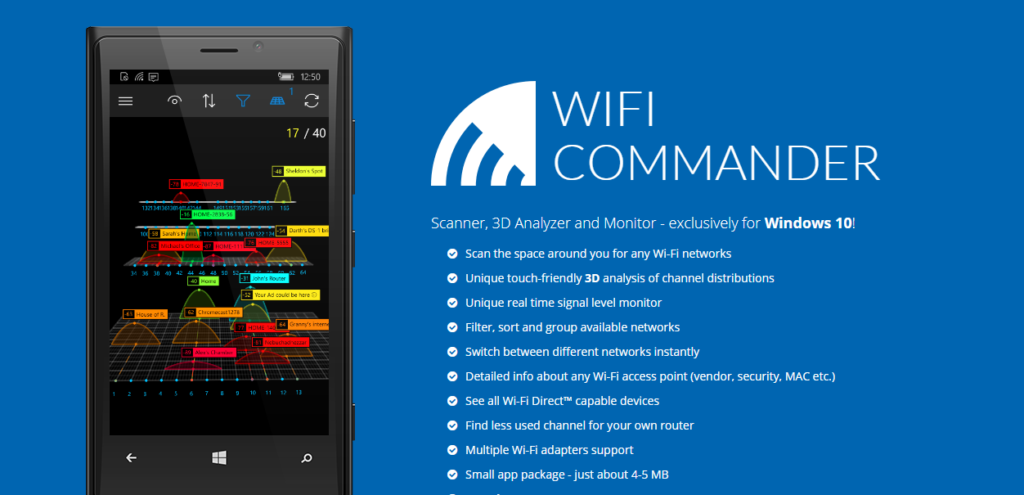 The 5G network is surpassing wifi in many countries and 5G is much faster than wi-fi in most countries. This means that in the future we will get a faster and reliable network.
Bottom Lines
In the above lines, we have explained all about the best wifi analyzer windows 10, and also explain about the free and paid wifi analyzers.
So now you have to decide whether you want to purchase a tool or want to try a free tool.