If you mostly write your article on the word then you should need to know how to use Grammarly in word.
Moreover, if you are a content writer and doing an office job then grammar skills are very important because they make content easy to read and make a flow of the article.
Grammar should be your top priority during article writing.
Because if you are writing an article and spending a lot of time making it interested and engaging but still it has grammar mistakes that will destroy your hard work.
If you mostly write your article on the word then you should need to know how to use Grammarly in word.
Grammarly does not edit articles like humans but almost close to it.
Grammarly checks spellings, punctuation, verb mistakes, the formation of the sentence, and other mistakes if you will upgrade to the premium version.
The people who are already working as a content writer or the people who have any kind of concern with writing or editing may have use Grammarly before.
Because Grammarly is a powerful offline and online tool for Grammar checking.
There is a Grammarly extension also available for free which you can use with Microsoft Office.
People add Grammarly extension to their chrome or Firefox to check grammar mistakes while writing blog posts, creating an email, and social media posts.
You can also use Grammarly on MS word document.
Grammarly is used in MS word as an extension in an MS word editor.
That's great because we know that the proofreading feature of MS word is not much reliable.
How to use Grammarly in Word Offline After Downloading
The installation process of the Grammarly extension on MS word is a little bit complex as compared to installing in a browser.
But don't worry we will explain the whole process of how to use Grammarly in word after the installation process.
    First, you have to download the Grammarly version for Microsoft Office on your system.

2.    Now double click on the downloaded file of Grammarly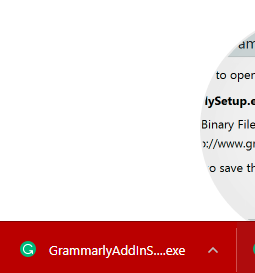 3.    A pop up will display click on get started.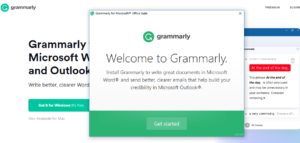 4.    After this, you have to select the office product on which you want to use Grammarly and then start the installation process by clicking on the install button.

5.  There will be a Grammarly tab on the editor of the word. Click on the Grammarly tab.

6.  Create your Grammarly account or add an existing account to log in to Grammarly. It is necessary to log in with Grammarly and providing your credentials otherwise it will not work.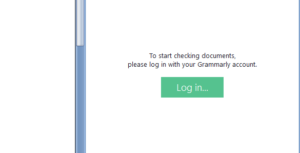 7.  After this Grammarly will automatically start working on Word.

As the Grammarly configuration is completed you can use it on any of the Microsoft Office documents but you should remember one thing that you can't undo anything while using Grammarly on the word.
Before installation makes sure to close MS word and outlook.
Grammarly is also available to use on Google products like Google Docs and use it on different Google Docs pages.
Bottom Lines
If you are a professional content writer and don't know how to use Grammarly in word.
You will learn this after reading the above lines. Grammarly detects and corrects all of the mistakes in your content.