How to make business cards on Google Docs?
You always need a professional business card if you are going to start your own business.
A business card helps you to share your contact information with your clients and customers.
The people who do not have any experience in designing are usually discouraged to design a business card for their own business.
Except that if you have no money or you are out of your business budget then definitely you have to do it on your own.
So, it is necessary for you to know how to make business cards on Google Docs.
The business cards representing your business or brand create a good value for your business.
You can also make your business card on Google Docs if you don't have any experience of using Adobe Photoshop, InDesign, and Illustrator.
Here is the step-by-step method for you.
How to Make Business Cards on Google Docs
One thing you need to make a business card on Google Docs is a business card template.
In the market, a lot of different kinds of business card templates are available that you can use to design your business card.
The process of  how to make a business card on google docs is given here:
Initially, you have to download the template from any online platform.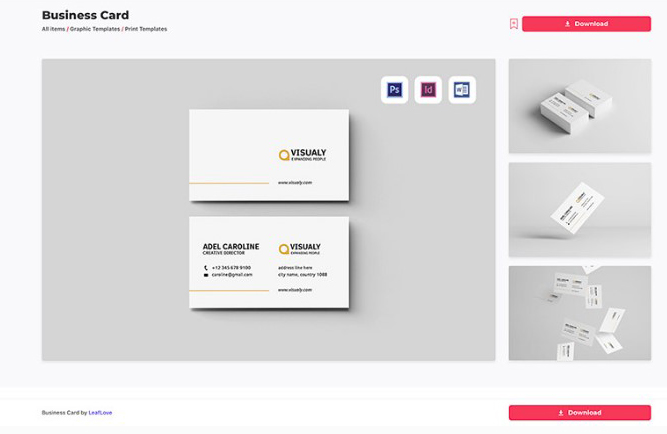 Then you have to log in to your Google Drive.

Now upload the template that you have downloaded.
Then from the toolbar, you can use the selections to replace your own text and information with placeholder text and information.

After completing your business card you can share it, link with the printer to take out your business card print.
You can also share your business card with your friends, family, and employees.
After making your business card you can send your card to someone for printing.
You have to download your business card as a standard JPEG or PDF file.
You can also save your business card as a scalable vector image by going to the download menu of files.
Related: How To Add a Page on Google Docs
Placeit ( Best Alternative of Google Docs to make Business Card)
As we have explained the complete method to make business cards on Google Docs.
But there is also an alternative method that you should know about creating business cards.
This option is Placeit business card maker.
The advantage of Placeit is that you don't have to download different templates and upload them. That is a great feature of Placeit.
You just have to open your browser from your computer and you will create your business card online in just a few minutes of time. 
You will get a great number of different types of business card template designs.
You can choose one of them according to your business needs.
That is a quite interesting and unique way to create your business card on its own.
These templates are designed by professional and expert graphic designers.
Related: How to Speak on Google Docs
Ending Lines
It was the easiest guide on how to make business cards on Google Docs.
If you are a business owner but you are not a professional graphic designer and you need business cards then you can easily create your own business card by using Google Docs.
We have also explained the best alternative of Google docs if you don't want to make a business card on Google Docs.